The Restrata Platform
Enterprise Software Providing Real-time Assurance of your People, Environment, Assets & Reputation.
Restrata has collaborated with the industry's leading experts to build the Restrata Platform, providing real-time, global view of your operations, anytime, anywhere, regardless of the complexity of your organization whilst maintaining seamless local control.
Focused on minimising the time from any incident to response, and maximising the information available to decide, vital to save lives and manage any impact on your business.

Global View
Local Control
Seamless Access
The Restrata Platform integrates real-time data from IoT sensors, Tracking & Access Control Infrastructure, Travel Management and HR. Combined with the scalability of the Restrata mobile app, providing a unified operating picture of your people, assets and environment.
Know exactly who is where, both locally and globally
Offers a unified identification for each person allowing seamless access across the globe
Know exactly who is expected & identify traveller no-show
Maintain constant flow of critical information & alerts through integrated mass & crisis communications
Design & manage evacuations in real-time.
Manage planned and unplanned mustering ensuring improved performance and live data to know who is safe and who needs help
Minimise downtime & achieve cost savings
Assure Safety, Security & proactive Incident response
Operational efficiency

Complete visibility

Gain complete visibility across a centralized platform
Manage challenges with a standardized approach increasing employees' safety
Get visibility to data such as mustering, working hours, dining etc.
Focus on proportionate response strategies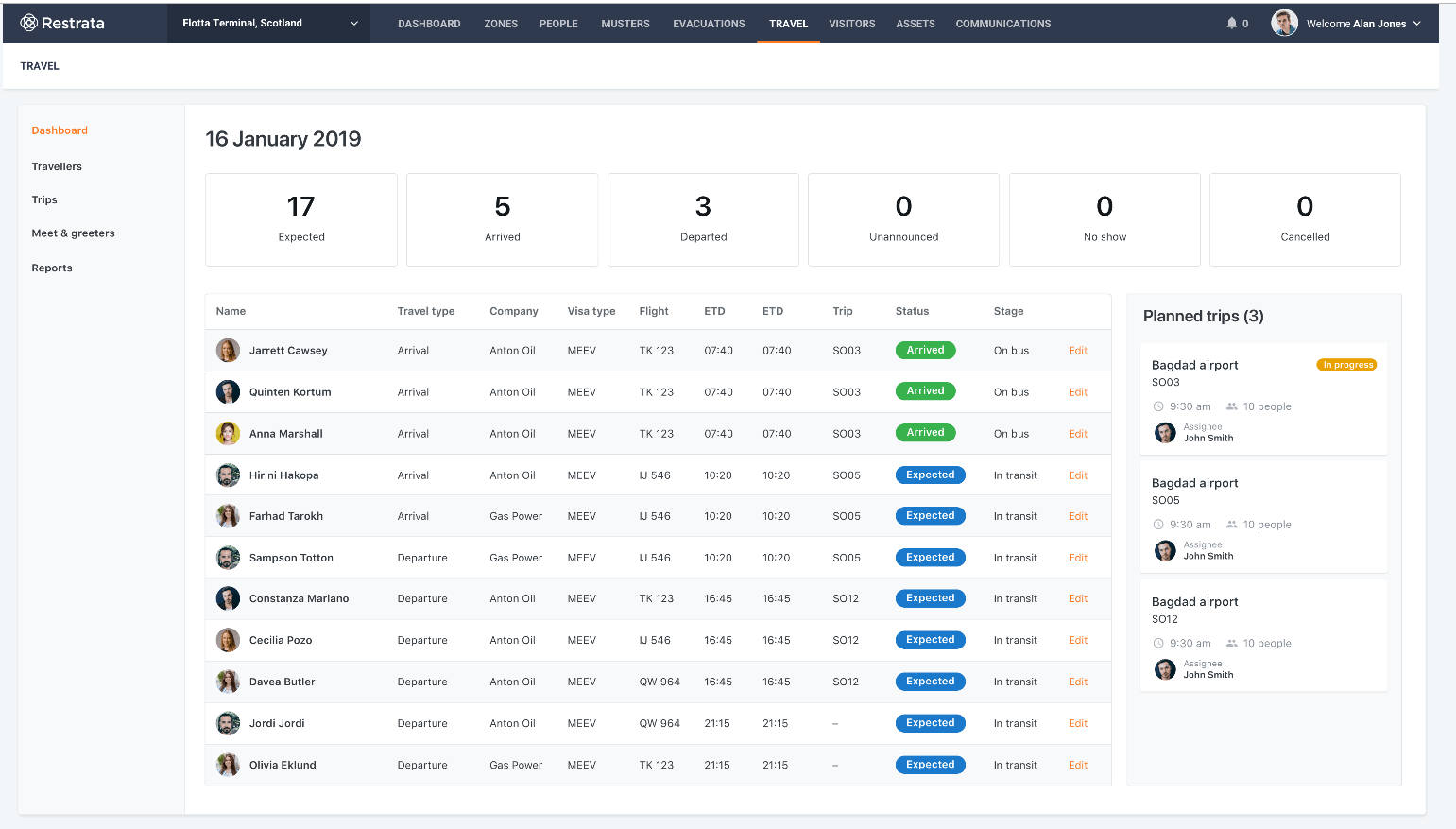 Travel tracking

Always connected

Achieve efficiencies in pick-ups and drop-offs with real time monitoring across staff
Manage arrivals and travelers to sites around the world
Stay connected using your mobile device
Link to personal tracking devices and apps
Focused implementation

Efficient scalability

Inexpensive to set up with integrations into current systems (hardware & software)
Avoid costly capital investment into ACS for temporary sites
Standalone hardware, easily activated and integrated
Achieve easy scalability with a global platform
Clear cost reductions

Reduce man hours of musters, evacuations and data capture
Reduce time to reconcile man hours of contractors on site with
automated data readily available
Managing predictive POB across sites
Cloud born, mobile ready, scalable.
Restrata Platform is designed to manage thousands of sites and millions of people across the globe.
Restrata Platform: Connected Resilience
Restrata Platform provides 100% visibility of human capital enabling clients to make quicker, more informed decisions regarding people management and safety.

For real-time, global view of your operations anytime, anywhere, contact us today!
Thank you for submitting the form. A member of our team will contact you shortly to arrange a demo session.